Piella Bakewell is the sole antagonist of Wallace and Gromit: A Matter of Loaf and Death.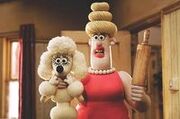 She was voiced by Sally Lindsay.
Once famous as the Bake-O-Lite Girl, the star of commercials for Bake-O-Lite slimming bread, Piella Bakewell now lives in a luxurious mansion with her pet poodle Fluffles, which houses many mementos of her former glory.
When she gained weight and became too heavy to ride the Bake-O-Lite Balloon, she was fired. This made her intend to eliminate all bakers in the vicinity to get her revenge and to complete a baker's dozen, 13. She pretends to fall in love with bakers and murders them. She had attempted to kill Wallace when he and Gromit opened a bakery service. However, Gromit and Fluffles foiled her evil attempt. She then tried to escape in the Bake-O-Lite Balloon, but she was too heavy and landed in the zoo's crocodile exhibit, and was eaten alive by the crocodiles. Wallace then quoted "You'll always be my Bake-O-Lite Girl", and he imagined a thinner Piella Bakewell riding the Bake-O-Lite Balloon and ascending into the heavens.